Our Story: The Alumni Sports Café

My venture all began in 1995 when I was moving to Pembroke which I knew nothing about.  I would drive by this building which was vacant at the time and make a comment to my wife that I could create a great pub there.  She would then kindly inform me that I didn't have a nickel to my name, as she was the level headed one of the marriage.  With all her support I then proceeded to swipe every credit card to our name to get a down payment on the now, ALUMNI SPORTS CAFÉ.  As the statements kept arriving in the mailbox with over $90,000 in charges, I thought my wife was going to bury me right then and there.  Thank goodness I had no life insurance on myself!!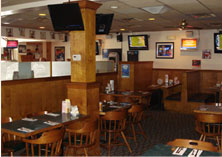 Well, I had the building now and it was time to create, build and succeed in this ever changing economy.  Having worked in the chain world, I learned what not to do.  For example, you will never see processed frozen chicken fingers on our tables.  Our fingers are called tenders because that is what they are as we pound them out of fresh chicken and bread and hand batter them daily.  Our seafood is delivered fresh daily, the steak tips hand cut daily and marinated in our secret recipe, our cold cuts top quality and everything made from scratch.  We never precook anything; you may wait a bit as everything is cooked to order.  We even shred our pizza cheese, make our own dough daily and create new dishes to fulfill everyone's desires.
Many days I would drive to Quincy to bring my father a cheeseburger or our homemade meatloaf and he would always comment that he never had better.  Plus, it was being delivered by is wonderful son.  We have been committed to our excellence for over ten years now and strive to provide a consistent fresh dining experience.  It's GUARANTEED!